The health and fitness company I partner with is releasing a brand new workout program beginning in January.  I began my own road to health 3.5 years ago, and I have used these programs to workout in my own home, while my babies sleep, and to educate myself about the benefits of clean eating and caring for our bodies God's way.
I don't believe in gimmicks. I've been a yo-yo dieter for most of my life.  But when God got my attention a few years ago with my own health, I got SERIOUS about making my health a priority.  Becoming less obsessed with the scale and MORE obsessed with my temple. And if you follow me on Facebook or Instagram, you know that I LOVE helping other women do the same.  And I see this as a tool to help other women take their fitness and their faith to the next level!
What Is 80 Day Obsession?
80 Day Obsession is a new program created by fitness expert Autumn Calabrese.  Autumn Calabrese also created the 21 Day Fix, 21 Day Fix Extreme, Hammer and Chisel, Country Heat and more. I have tried the sneak peek into this program, that hasn't been released yet, and I'm here to tell you it is gonna bring great results! The program officially launches in January of 2018.  Until then,  You can also get prepped for the program by joining me in a "Prepare to be Obsessed" Facebook Accountability and Support Group.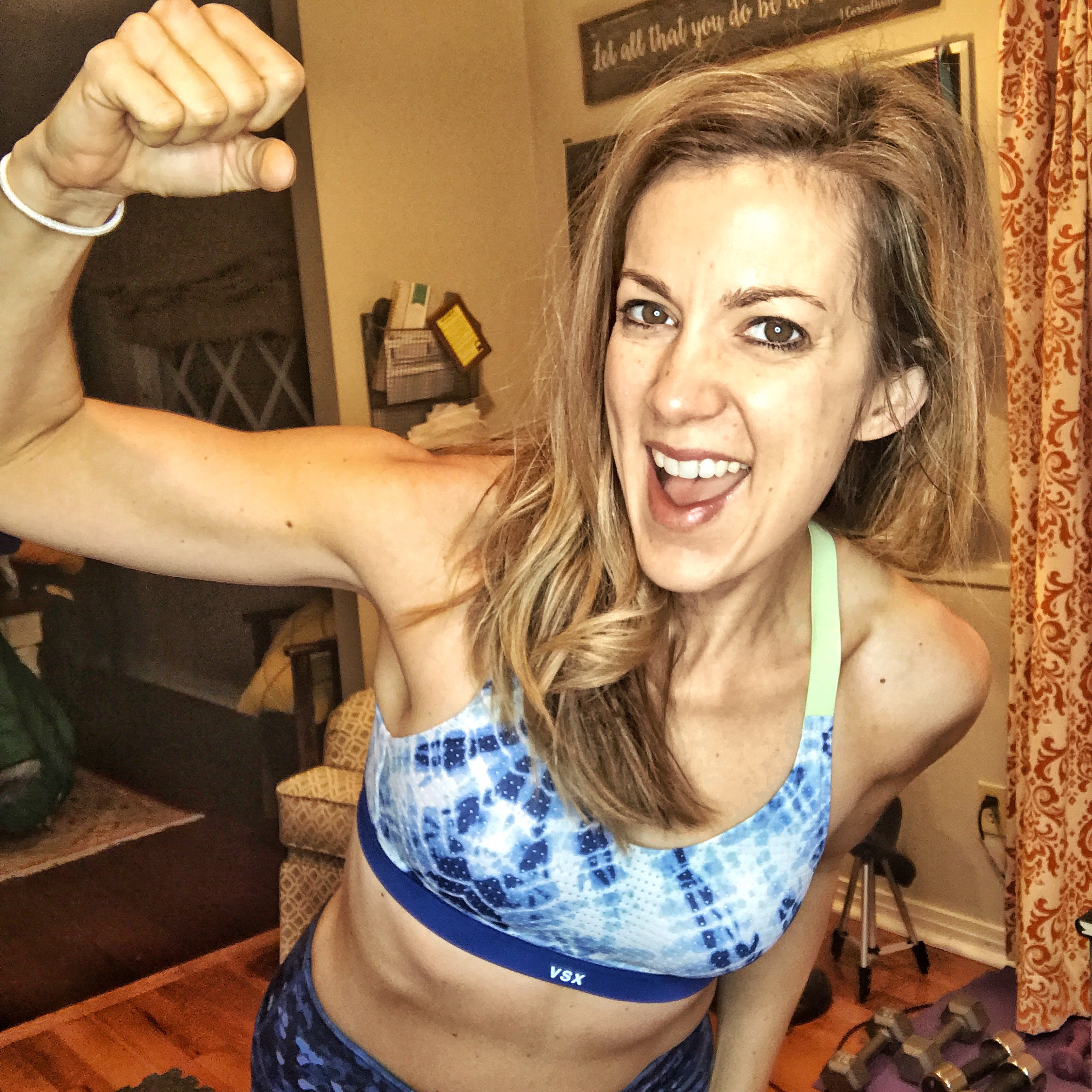 This program is an effective, step-by-step approach to building a shaped, curvy butt while simultaneously shrinking your core.  It's 80 days of obsessive focus on fitness and nutrition spread over 13 weeks.
Is it extreme?  YES!!!  The workouts are intense and they average 45 minutes to an hour in length.  The diet guidelines are every bit as demanding also.  It WILL be a challenge!  I won't sugar coat that.  You will be following a professionally calibrated macro-nutrition plan perfectly timed to produce amazing results at each phase of the program.  Yes the program is intense and it is designed to help you get in the absolute best shape of your life.  So it is really important that you follow the program to the T in order to get the results that you are expecting.
This program works your entire body but there are days specifically designed to work your butt, your legs, your core, arms and cardio.  Each workout is different and we are doing the workouts in real time with Autumn Calabrese.  In January 2018 when the program is released you will also be able to do the workouts in real time. I'm starting it then, and I would LOVE for you to join me if you're ready to take it to the next level!
What Equipment Will You Need?
This program is using some more non-traditional equipment…for me anyways.  You will definitely need a set of weights, but you also will need a set of resistance bands, sliders, and a mat.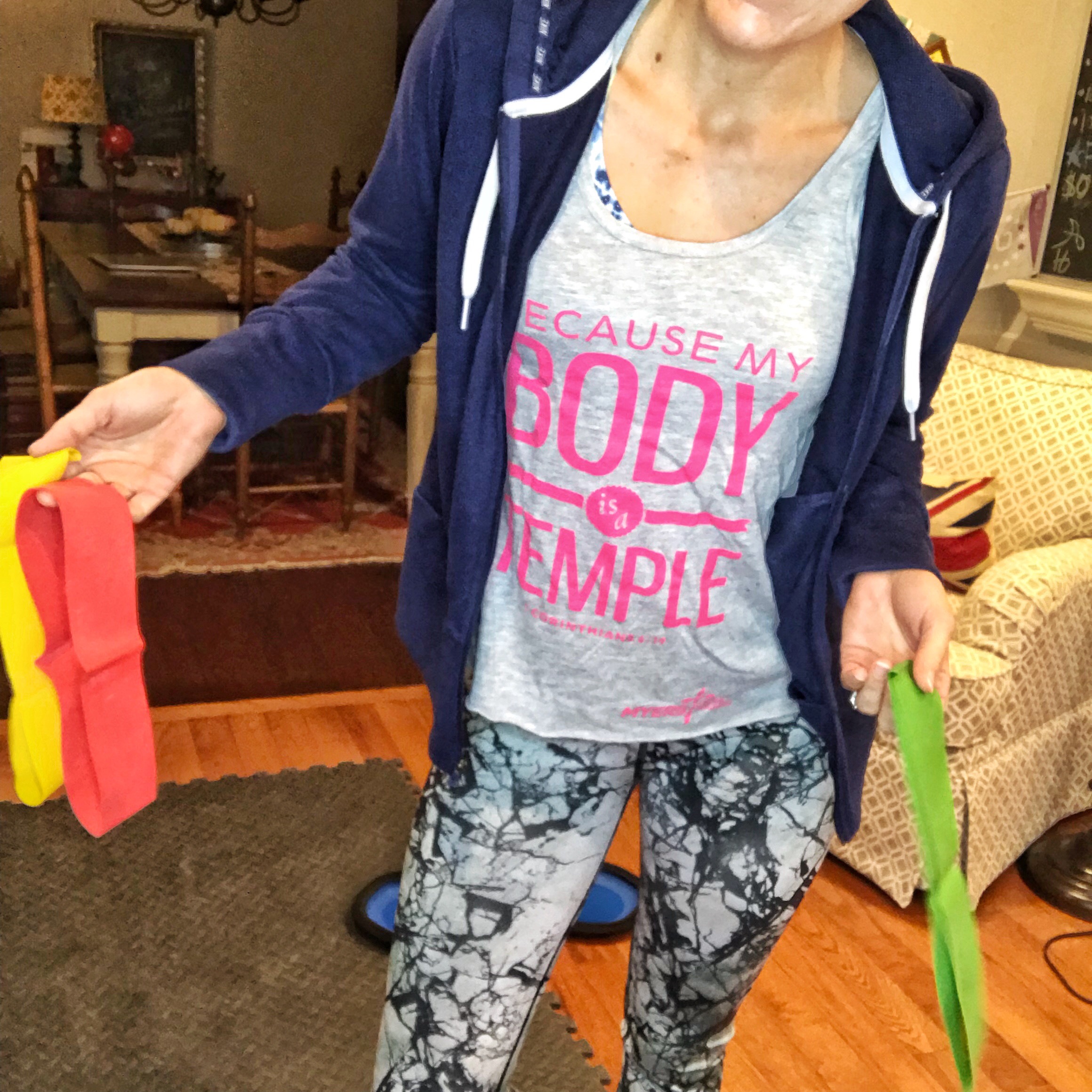 What Is the Nutrition Plan Like?
If you're familiar with the 21 Day Fix, and any of the programs that followed it, you know about portion control and the color coded containers.  Seriously!  CHANGED MY LIFE!  You will still utilize these for portions, but this nutrition plan is NEW and different than other Beachbody programs.  It utilizes "Timed Nutrition".  You are eating at specific times of the day and you have a pre and post workout meal.  I keep things very simple when it comes to my nutrition. Especially so when trying something new.   I already replace 1 meal or snack a day with Shakeology , so I will continue to do that .   I will go into more detail with the meal plan in the next few weeks.  The best part about the whole program is that you get to have a refeed day in which you get to have more carbs to refuel and jolt your body back into results.  The first refeed happened at week 6!
Who Is 80 Day Obsession For?
This program is for anyone who wants to literally get strict with their nutrition and see how far they can go with results!! You do need to have a base level of fitness and you do have to understand portion fix and clean eating.  If you have more than 40 pounds to lose I suggest using the next few months to get within that 40 pound goal so that this program is the most effective for you. Again, you can join me in my private Facebook group as I help my challengers prepare for this program!
This program is good for:
-Those that want a leaner, firmer, more sculpted body
-Women looking to add some curves WITHOUT bulking up
-Anyone who wants a tighter, more defined booty and flatter abs
-Fitness fans looking for an intense, holistic workout that they can do at home
The really good news is this!  You have lots of time to get ready for 80 Day Obsession which is why I am hosting a "prepare to be obsessed" Facebook group to help you get your nutrition in check and your fitness up to speed.
_____________________________________________________________________________

My goal with this program will not be weight loss. It is instead to learn about a new way of fueling my body, becoming stronger and truly become obsessed with caring for this body that God has given me.  In my challenge group that begins in January, we will focus on
Overcoming strongholds in our choices
Developing a genuine appreciation and love for our bodies. Our temples
Breaking Up with the unhealthy relationship we have with food!
Committing to something hard and trusting God to help us achieve our goals
What Can You Do To Prepare For This Program?
Take the next two months and join my Prepare to Be Obsessed challenge group and start building a solid foundation for fitness and nutrition. I will walk you through the workouts leading up to the launch and help you through goal setting, meal planning, daily preparation, motivation, consistency and accountability.
During the holiday season when most people gain a good 10 pounds, but NOT US!!!! Let's go the opposite way TOGETHER.
The program will launch on January 14th and a new workout will be posted each day for 80 days.  If you would like to be a part of my 80 Day Obsession Customer Beta Test Group please complete the application below to get on the list for all the details as the product is launched. There is also a free preview after Christmas that we will partake in together
If you want more details on this abs, butt and total body workout hit me up!! Apply below to stay up to date on the launch!