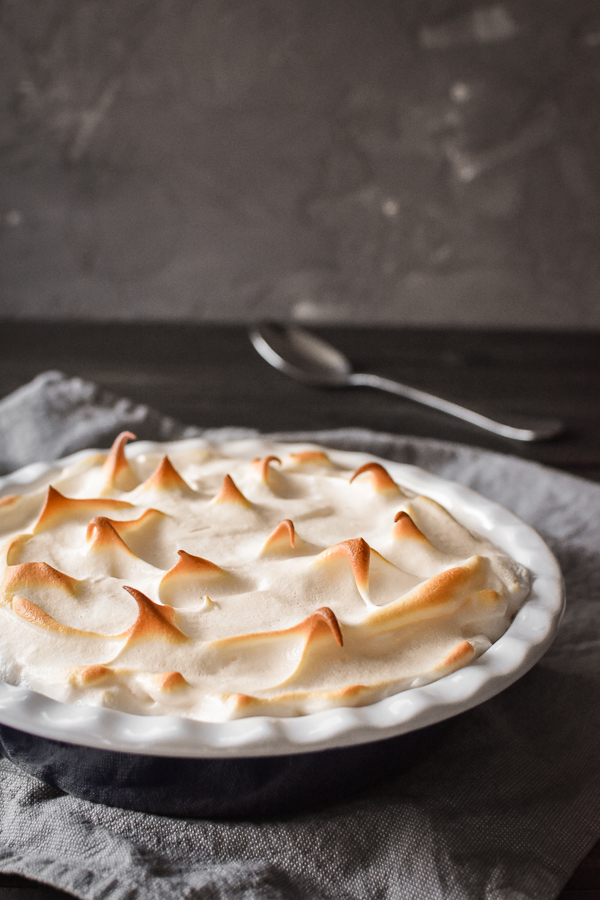 Ingredients
Filling:
1  butternut squash (about 3 lbs) – makes 3 cups mashed
1/4 tsp cinnamon
pinch of nutmeg
1/4 tsp orange extract
2 Tbs raw sugar
Meringue:
4 egg whites
1/2 tsp cream of tartar
1/2 tsp vanilla extract
1 1/2 Tbs raw sugar
Instructions
Cook the butternut squash:
Instant Pot Method:
Cut off both ends of the squash so it'll fit in the IP (if it's bigger than 3 pounds, see the photo of how I cut it – I think that one was 3 1/2 lbs)
Put squash on the trivet in the IP with 1 cup of water. Set to manual for 45 minutes, then immediately release the pressure. It should be super soft. Carefully remove it from the IP (using the trivet's handles), cut in half, remove the seeds, and then remove the flesh from the skin and put it in a bowl.
Slow Cooker Method:
Put the whole squash right in the slow cooker. No water is needed. Put it on high for 4 hours, the remove it, cut it in half, remove the seeds, then take out the flesh from the skin and put it in a bowl.
Microwave Method:
Peel and chop your squash and put it in a microwave safe baking dish with a lid. Add a few tablespoons of water and cook on high until very soft (I would start with 10 minutes, then stir and cook longer if necessary).
Finish the squash filling:
To the butternut mash, add the cinnamon, nutmeg, orange extract and raw sugar and put in the bottom of a deep dish pie pan. You're going to need to put your meringue on top of hot filling, so either make your meringue while the squash is cooking (it takes less than 10 minutes, fyi), or you can make the filling ahead (days ahead, even!) and just heat it up before you put the meringue on top.
Meringue:
Preheat your oven to 325 degrees.
In a glass or metal bowl, beat the egg whites with an electric mixer on high for about 2 minutes, then add the cream of tartar, vanilla extract and raw sugar. Continue beating on high until stiff peaks form. Put directly on the hot squash filling (important!) and place in the oven to bake for about 15 minutes or until golden brown.